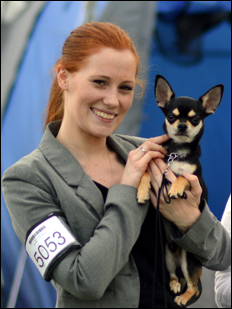 My name is Guro Henriksen. Living in Oslo, the capital of Norway, where I'm spending almost all of my time with my little family consisting of me and my better half, and our six wonderful dogs! My main hobby are my dogs and our activities together, as well as photography.
After over 10 years in the showring I'm handling my own dogs and dogs for friends and breeders. Fall '03 I came 4th in the Norwegian Championship in Junior Handling. Fall '08 I completed NKKs breeding course part 1. I have also instructed in handling and Junior Handling several times.
Grooming and handling is no longer just a hobby, but a huge part of my everyday life as well. Through my job as a kennelgirl I learned alot about grooming Chinese Crested and Bichon Frise, and I will forever be grateful to the breeder who teached me all the knowledge I now have around these two breeds. Later I'v been preparing different coat-types before shows, and "everyday cut's" for friends and others.
I believe in consistent rules combined with positive training in the everyday life as much as in the showring, and within obidience. My dogs live with me as loving familymembers until the end. Dogshow is our main hobby, but we are also enjoying obedience, freestyle, agility and tracking. Since my life revolves around dogs, it's only natural that I also write for "Chihuahuaposten" (the Norwegian Chihuahuaclubs magazine) where my column mainly is about an active life with chihuahuas. Such as agility, tracking, mountain- and skitrips, freestyle etc.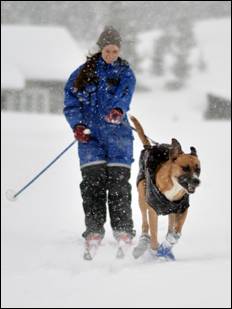 In April 2013 I got my prefix approved by FCI and the NKC. The name, "Tiny Guardian", represents the beginning of my life with Chihuahuas since this was my first chihuahuas pedigree name (in hungarian). She meant the world to me, and when she past away in 2009 I promised myself to honour her somehow in my upcoming breeding. I thought the name "Tiny Guardian" really suited her; she was indeed my guardian angel (and maybe she still is..?). The second reason for my choice in prefix are the temperament I think a Chihuahua should have. Not aggressive, but stubborn and brave just like a tiny guard dog.
My goal is to combine beauty and brain, as well as health, in my breeding. I hope to keep up the good work so many breeders before me have done with our wonderful breed. And I dream for healthy, happy and outgoing Chihuahua puppies that will bring their new owners joy and love through many, many years! I will also (of course) follow the Norwegian Kennel Club and the Norwegian Chihuahua Club's ethnical guidelines for breeding, and continue to learn from other breeders and my own beautiful dogs every single day! :-)
You are more than welcome to contact me at: guro-hen@hotmail.com