Handling
From time to time I'm available for handling, training and grooming dogs for friends and others.
The beginning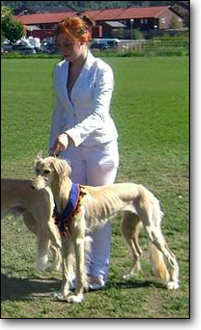 Since my first entry at a dogshow, I knew this was the thing for me. I love being in the showring, just me and the dog, competing side by side. This is the place I truly have confident in my own work.
In my first years at dogshows it was all about the Saluki. My "grandma" was the one who opened my eyes for this wonderful sport with her sweet Salukis. I won my first official Junior Handling competition and my first all breed BIS (puppy) with this breed. And I was placed 4th at the Norwegian Championship in Junior Handling with a Saluki, the first time I qualified for this type of competition.
Junior Handling
As many young handlers, I started out as a Junior handler. A competition I simply just loved! Through this sport and for every breed I showed, my handling grew. I loved to learn from experienced handlers and breeders both in handling and grooming, and I still do! Without these people, I would never be where I am today.
Especially one person "whipped me in shape" several times and I'm truly grateful for all the times he placed my feet back on the ground whenever I got too "high on myself" and thought I knew everything. He learned me how to behave properly in the showring, how to walk and talk. His honesty was golden, and I can without a doubt recommend him to anyone who wants to learn the art of handling!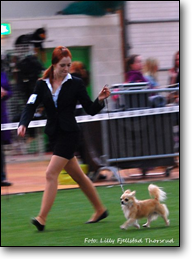 The one thing that often makes Junior Handlers stand out from a crowd of "other handlers" is the immediate awareness of how they behave in the ring and how they represent their dog. This is one of the "keys" I hope I never forget from the time I was a Junior Handler.
After being in the showring for more than 10 years, many thinks their learning curve has ended. That's not the case for me. Everytime I'm at a dogshow I learn something new, either by a new dog I'm showing or by an other handler. I think it's important to allways have both eyes and ears open for new learning as time and technics change every day, or else your handling will die with the old technics.
Looking for a Handler?
If you're looking for a handler/trainer/groomer, feel free to contact me for more information about my conditions and requirements.
I never show dogs with true fear for dogshows or strangers, or aggressive dogs. The dog should be fit for showing, before entering a dogshow. Which means that both the dog and it's coat should be in good condition. And the dog should be physically and mentally ready for the huge impression a dogshow is to a dog.
Please contact me at guro-hen@hotmail.com for more information.