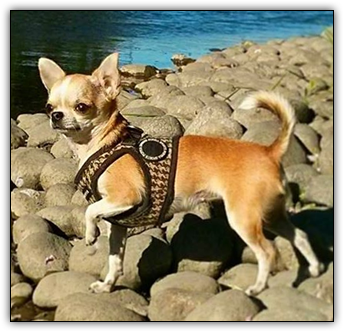 Havana Ugnies Zenklas
Petname: Havana
Born: 01. July - 2012
Reg. number: LSVK ChK 0507/12
Breed: Chihuahua smoothcoat
Teeth: 6 x 6 Overbite
PL/Eyes: 0-2 / Not eyechecked
Fontanell: Open
Adult weight: 2,2 kg

*Not for breeding*
Sire: LT JCH LT BY CH Hageshii De Los Reyes Del Nueve
Dam: (LT CAC) Vega Ugnies Zenklas
Owner: Guro Henriksen
Show results:
2 x BOB and BOG 4 puppy, EXL as an adult

After waiting several months (felt like forever), our cute girl arrived from Lithuania! This little girl is definitely a "wolf in sheep's clothing". She may look like innocence itself, with big beautiful eyes and a super cute face, but do not be fooled! At home she's high and low at all times, always finding new ways to piss of the other dogs with pranks and play.
She loves treats, so it's very easy to both train and motivate her. And she loves to cuddle, between her many pranks.
Havana has a beautiful head and a wonderful, stubborn attitude. She's a true diva and she loves to show off! Only a year old she developed pyometra and due to that and her illness in her knee we decided to sterilize her - and she's now our very spoiled, beautiful little pet and mascot. We love her more and more everyday, I mean, who can resist that extremely cute face?

Thank you so much, Danguole - kennel Ugnies Zenklas, for letting sweet and playful Havana live here with us :-)